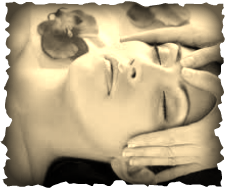 Have you ever made one of these statements about massage?
"I don't have time," I don't like to be touched," "I can't afford it"
Think about those statements carefully . . . Now read below.

Regular massage therapy helps relieve stress and relaxes the mind and body thereby facilitating clearer thoughts and better concentration. But you have heard that before and you don't have the time or the money for something that is not considered "essential," especially in this economy, right? Wrong.
---
Think about it this way. With so much talk about healthcare and the cost of health insurance these days, you really want to take care of yourself BEFORE the doctor tells you there might be a problem. What you might not know about massage is that it can help equip you with the energy and focus you need to get through those days where 24 hours just does not seem like enough time. Better yet, it is uninterrupted time, just for you. Time you can look forward to - a break from that hectic schedule that is causing you to feel like you are spinning out of control. Allowing a licensed and trained massage therapist to concentrate completely on you, your needs and your well-being can be just what you need.

Massage improves blood circulation and lymphatic drainage, helping to lower your blood pressure so you won't get those blinding pounding headaches, swollen legs and feet; it speeds up your metabolism, aiding in weight loss and helping to avoid the complications of obesity and diabetes; it provides relaxation to strained and stiff muscles, assisting in lowering pain in the lower back, neck and shoulders therefore avoiding OTC drugs which can cause liver damage, if taken in excess. It can also aid in the overall therapeutic benefits for clients suffering from chronic pain such as fibromyalgia or recovering from an illness or certain types of surgery and much, much more.

If you find yourself constantly buying OTC or prescription drugs that only stop the pain for a few hours, or if your mind won't stop racing long enough for you to get a restful nights' sleep causing hormonal problems within your body systems, and you find yourself taking sleep aids several times a week, wouldn't it be worth it to try something that is natural and works with your body instead of against it? The average cost of an OTC pain reliever is almost $10.00 a bottle. Not to mention the extravagant cost of prescription drugs. How much medication are you buying in a month?

Everything else in your life gets your full attention. Isn't it time you focused a little on you? That way you will be ready for all those "things" and everyone else to whom you give so much of your time.

Is massage the answer to all your problems - NO, but it certainly can put you in a better frame of mind to deal with them!

So again I ask . . . is it worth it?
What you can't afford to do is to NOT get a massage